BEACH WATER POLO FOURS PRESENTS: TONY AZEVEDO AND 6-8 SPORTS
WHEN: 14TH & 15TH OF SEPTEMBER
WHO: BORN 2002 - 2007
WHERE: ALL HALLOWS AQUATIC CENTRE & SOMERVILLE HOUSE AQUATIC CENTRE
5 x Olympian, Tony Azevedo is in Australia with the Beach Water Polo Fours team to present the 6-8 Sports Challenge to Australia for the very first time!
In these two separate clinic formats, athletes will personally learn from Tony and a range of Australian Olympic and National League Players about the skills and techniques that made them the athletes they are today. Athletes can choose which clinic best suits them, with a number of different times and formats available. No matter what clinic you choose, it's going to be an action packed event you won't want to miss!
CLINIC FORMATS
6-8 SPORTS SHOOTING CLINIC
At our two hour 6-8 Shooting Clinics, there will be a 6-8 Sports Challenge followed by an expert shooting session run by one of the world's deadliest shooters, Tony Azevedo.
First 30 registrations: $129.99 per player
Last 20 registrations: $149.99 per player

6-8 SPORTS DAY CAMP
The 6-8 Sports Day camp includes 5 hours of intense coaching from Tony Azevedo and other Australian Olympians and National League Players. After athletes complete their 6-8 Sports Challenge and earn their global ranking, Tony will run an expert shooting session with 3 x Olympian Rhys Howden and other Australian National League players. After learning all the tricks of the trade, players will join their designated coach and play in a round robin tournament.
First 40 registrations: $229.99 per player
Last 20 registrations: $259.99 per player
SCHEDULE
SATURDAY SEPTEMBER 14TH
ALL HALLOWS AQUATIC CENTRE
12.30pm - 2.30pm: 6-8 Sports Shooting Clinic
3.30pm - 5.30pm: 6-8 Sports Shooting Clinic
SUNDAY SEPTEMBER 15TH
SOMERVILLE HOUSE AQUATIC CENTRE
9.30am - 2.30pm: 6-8 Sports Day Camp
(Please note that athletes under 18 years old will have to have a parent register on their behalf.)
THE COACHES
Along with Tony, we have secured some of the best coaches and players in Australia to deliver our first 6-8 Sports Clinic!
TONY AZEVEDO
Tony Azevedo is, by many measures, the greatest player in American water polo history. With an international career spanning more than a decade and one of only twelve other water polo athletes to have competed in five or more Olympics, it's no surprise that Tony's water polo awards and accolades span for miles. Some of his greatest achievements include:
5 x Olympic Games including a Sliver Medal in 2008 in Beijing

5 x Pan American Game Gold Medals (1999, 2003, 2007, 2011 & 2015)

8 x World Championships (a water polo world record)

4 x Fina World Cup Tournaments

12 x World League Super Finals

USA Team Captain from 2005 to 2017
SCOTT NICHOLSON
Scott is the founder of Beach Water Polo Fours, and has enjoyed playing water polo for the majority of his adult life. Scott predominantly plays centre back in the Australian Water Polo League with his club Sydney University and can't keep away from the water and the beach. Having founded Beach Water Polo Fours, Scott main goal is to grow the sport of water polo in Australia and instill in participants the same lifelong love affair with the game that he has. Some of Scott's greatest achievements include:
Assistant Coach of the Australian Women's Beach Water Polo Team at the 2019 FINA World Championships

12 Years in Australian National League

2018 Australian National League Champion

2011 Australian World University Games Team

2008/9 Junior Australian Team

Current Vice-Captain of Australian Beach Handball Team

Bachelor of Arts Graduate from Sydney University with MBA
Michael Rosenthal
Michael "Rosie" Rosenthal has a water polo CV that is second to none. Achieving five back to back national championships with the USC Trojans during his time at college, Rosie has travelled the world playing the game he loves. Michael is extremely passionate about the environment and is looking forward to imparting his knowledge of oceans and ecosystems to our athletes as well as his extensive water polo experience. Some of Rosie's greatest achievements include:
5 x NCAA Champion with USC

Represented USA at 2013 World Water Polo Championships

Played for Radnicki Water Polo Club in Serbian League and EC Pinheiros Water Polo Club in Brazilian League

Captain of the Sydney University National League Team

Bachelor of Human Biology Graduate from USC / Masters of Environmental Science and Law Graduate from Sydney University / Graduate Diploma in Marine Science and Management from Sydney University
RHYS HOWDEN**
As a player from Brisbane, we are almost certain that Rhys Howden will need no introduction when he returns home in September. 3 x Olympian and a player for the Aussie Shark's since 2007, Howden is considered one of Australia's top rated players. Rhys has built up a wealth of experience playing for Australia and other clubs around the world, and provides world class plays for his teammates as well as a mentoring role to the younger Aussie Sharks squad members. Some of Rhys' greatest achievements include:
3 x Olympic Games

2016 Rio Olympic Games Australian Men's captain

2018 FINA World Cup Silver Medalist

Over 200 International Caps

2013 Danube Cup Gold Medalist
KELSEY WAKEFIELD*
Described as an "Australian water polo prodigy" by the City South News in Brisbane, it is only fitting that we have Kelsey coach at our first 6-8 Sports Clinic in Brisbane. With 159 International caps under her belt as a goal keeper, it is safe to say Kelsey will have plenty of expert advice for any goalies attending our shooting clinics. Some of Kelsey's greatest achievements include:
2016 Rio Olympian

5 x National League Water Polo Titles

2019 FINA World Championships Beach Water Polo Bronze Medalist

2016 World League Intercontinental Tournament Goalkeeper of the Tournament

2013 FINA World Championships Silver Medalist

2011 FINA World Junior Championships Bronze Medalist

Bachelor of Biomedical Science from Griffith University
MICHEALA DAVIES**
Michaela has so many incredible achievements on her CV that we actually had to pick which ones to include. She is our forever smiling, expert goal keeping coach and captain of the ACU Cronulla Sharks Women's National League team. When she isn't busy sending copious amounts of emails about water polo, Michaela is at the pool playing or coaching it. She is a pro when she gets in the water, but her bubbly attitude and energetic personality make her not only the perfect coach, but great friend to players of any age. Some of Mic's greatest accomplishments include:
2019 FINA World Championships Beach Water Polo Bronze Medalist

Junior World Water Polo Championships Bronze Medalist

Captain of Cronulla National League Team

Australian Water Polo League Champion

WPNSW Senior, Junior and Development Head Goalkeeper Coach

Bachelor of Media and Communications Graduate from Hartwick College
*Coaching at 6-8 Sports Shooting Clinics only
**Coaching at 6-8 Sports Day Camp only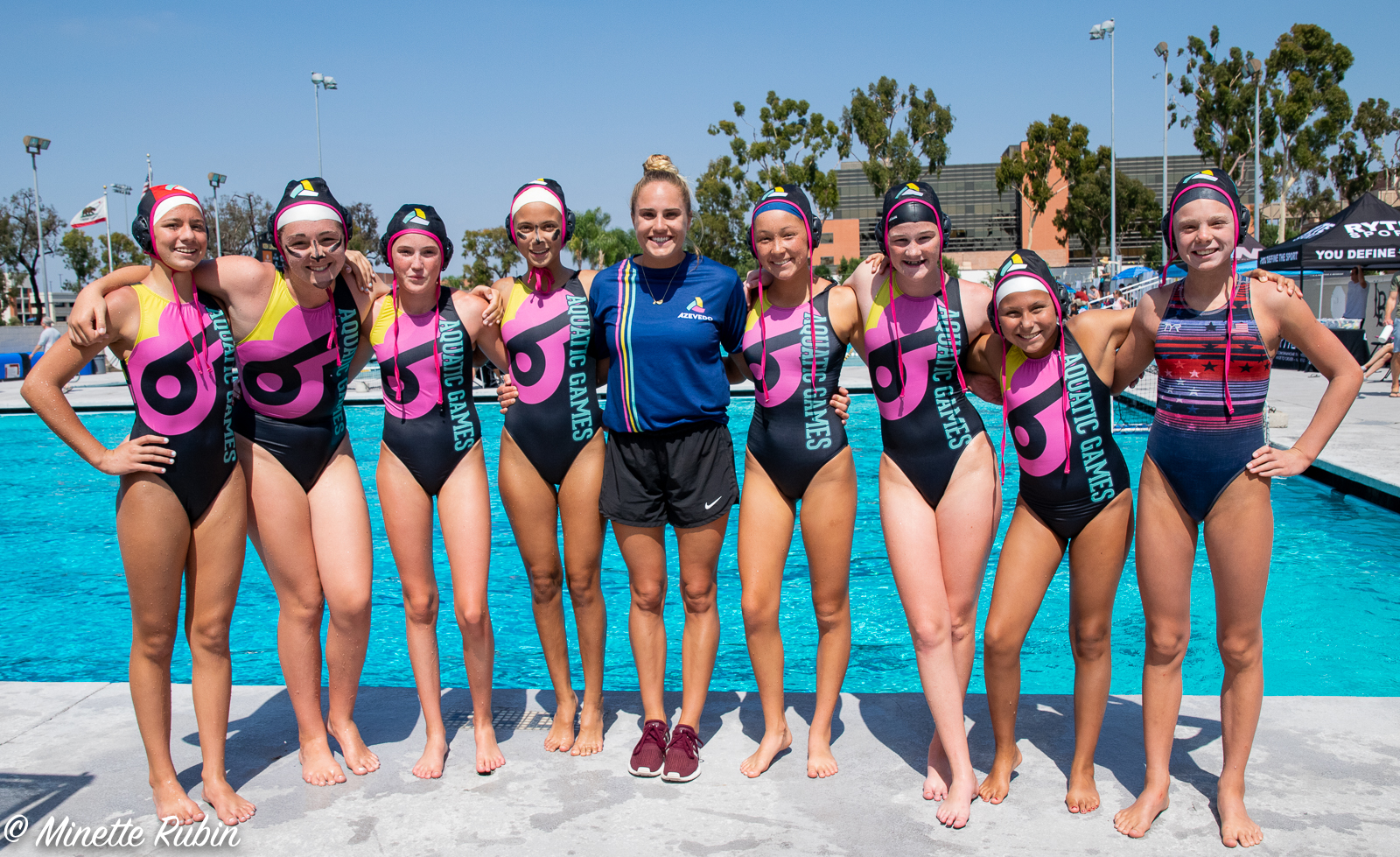 WHAT IS THE 6-8 SPORTS CHALLENGE?
Data is omnipresent in our daily lives. Schools measure success through grades and standardized test scores. Swimming tracks specific stroke time and pool length. Football and baseball systematically collect and compare statistics nationwide.
Water polo has fallen behind. There is no standardized data collection that allows for relevant comparison between water polo athletes around the world. We don't have a way to provide our athletes with data that will motivate them to work on specific skills and get excited about competing amongst themselves.
The 6-8 Program changes that. 6-8 Sports is a youth athlete performance analytics company created by Olympians Tony Azevedo and Maggie Steffens. Using AI, machine learning & observation, an athlete's strengths and weaknesses are evaluated to develop customized training plans. For athletes & parents, the 6-8 mobile App collects and displays key data obtained via the 6-8 Challenge and novel game scoring platform. The App also includes Video Training Programs, while clinics leverage this data to help players maximise their game in a systematic fashion.
This is the first time the 6-8 Sport Challenge has been brought to Australia. After the clinic, athletes will be able to use the 6-8 Sports App to understand their results, view their local/global rankings & see progression over time. Do you want to earn your number?